Description
Model No
DQIC650-48/13.5CAN
Inventory Code
86000-503
Categories
Battery Chargers / Analysers / Testers
Lead Acid Battery Chargers
48V Battery Chargers
Lithium Iron Phosphate Chargers
Multi Chemistry Chargers
SLA/GEL Type Chargers
LiFePO4 Type Chargers
Delta-Q IC650 Series
Selling Unit
EACH
Description
940-0006 48V 13.5A Delta-Q IC650 Series IP66 SLA / LiFePO4 Battery Charger with CANBus
Application
Aerial work platforms, Fork lifts, floor care machines, utility vehicles, golf carts,
Original Brand
Delta-Q 940-0006
Chemistry
Lithium Iron Phosphate / Lead Acid (LiFePO4/SLA)
Voltage
48V
Size
13.5A
Width
186mm
Height
80mm
Length/Breadth/Depth
252mm
Weight
3000g
Brand
Main Features:
Multi Colour LED Indicator for battery source
Numeric display for charge profile & alarm/fault codes
Preloaded with 16 lead-acid & 2 Lithium charge profiles
Custom profiles available
Auto-recharge for low voltage in maintenance mode
CANbus communication for machine integration or lithium BMS
This Delta-Q IC650 Series is a 48V 13.5A (650W) Industrial battery charger suitable for charging lead acid & lithium batteries.
CAN Bus model for simple system integration
Designed for Reliability:
Delta-Q IC Series chargers are designed to provide automotive-level product reliability and validated for a long service life in difficult conditions. All Delta-Q chargers are built in a world-class facility for manufacturing high-reliability solutions
Easy to integrate:
CAN bus communication enables a link between the IC650 and other components. This can provide for safe lithium-ion battery charging, and machine diagnostics and servicing information. IC Series chargers store charge cycle data, which is accessible using their built-in USB host port. The port can also support software and charge profile updates.
Global flexibility:
The IC650 Charger has a broad AC input range of 85-270V, enabling global use on any single-phase electrical grid. Wide regulatory approvals allow the IC650's use in electric vehicles and industrial equipment sold internationally. All IC Series chargers have customizable AC and DC cabling, providing simpler SKU management and tailoring charger integration to customer demand.
Battery charging performance:
In its extensive battery lab, Delta-Q has developed more than 200 charge profiles for lead acid (wet/flooded, AGM, gel) and lithium batteries. New profiles can be developed for manufacturers as part of the design-in process. The company has a proven track record of balancing charging time, performance and longevity, and application needs.
Software and accessories:
Through software and accessories, original equipment manufacturers (OEMs) can customize their Delta-Q battery charging solutions for better application fit and additional features for the customer.
Delta-Q offers software to support charger programming, battery troubleshooting and charge cycle data analysis. Chargers can be customized with different AC and DC cabling, remote LED signaling, connectors, temperature sensors, and carrying handles. Speak to our in-house engineers to find out more.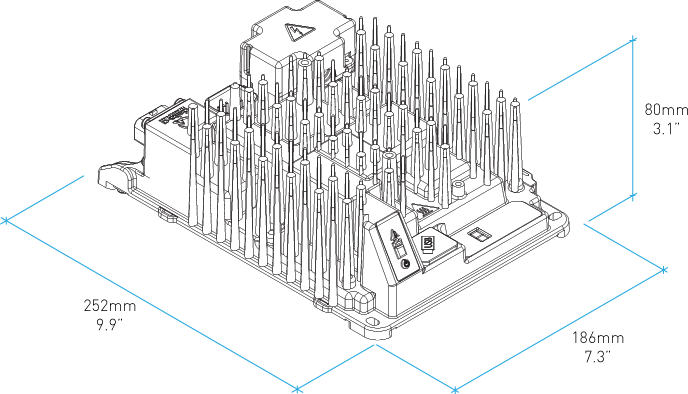 Specifications:
| | |
| --- | --- |
|  DC Output |  48VDC |
|  Max DC Output Voltage |  72V |
|  Max DC Output Current |  13.5A |
|  Max DC Output Power |  650W |
|  Deep Discharge Min. Voltage |  2.4V |
|  Maximum C3 interlock signal current |  1.5A |
|  Reverse Polarity |  Electronic protection w auto-reset |
|  Short Circuit |  Electronic current limit |
|  AC Input Range |  85 – 270VAC |
|  Nominal AC Input Voltage |  100-240VAC |
|  Nominal AC Input Frequency |  50 / 60Hz |
|  Max. AC Input Current |  7.5A |
|  Efficiency |  93.5% Peak |
|  Ingress Rating |  IP66 (NEMA4) |
|  Operating Temperature |  -40°C to +65°C (Derated >40°C) |
Delta-Q Charge Profiles


This product is supplied with 18 pre-loaded charge profiles.

Charge Profiles by Battery Type full list


Flooded (Wet) Batteries

AGM Batteries

Gel Batteries

Lithium-Ion Batteries

* Temperature compensated algorithm: charger temperature sensor must be connected

Click the link below to download the pdf full list of available charge profiles (algorithms).

The Delta-Q IC Series can store up to 25 charge profiles –